Finally the new issue of the magazine LifeStyleVIEW has arrived! To give you a taste of the content you can read the editorial written by Claus Nybo. Enjoy!
Save the earth – with your fork!
Talk about the environmental challenge and the need to take responsibility is nothing new. But this summer we have seen some new and more surprising players on the field for sustainability and accountability, this time with religious arguments. First was Pope Francis, then this week it was Muslim religious leaders arguing that Muslims too have a religious duty to fight climate change. Echoing the call of many environmentalists, the focus again is on renewable energy. But often what seems to be largely forgotten is the huge impact that our appetite has on the environment.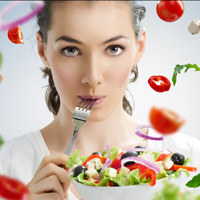 Whether we like it or not, the one thing that might make the biggest contribution to the environment for most of us, is eating a plant-based diet. Did you know that driving a SMART car from Malmö to Stockholm makes about the same environmental footprint as eating 1 kg beef? It has been calculated that to produce one kg beef emits on the average, 68,8 kg CO2, whereas a SMART car emits only 100 g CO2 per km. According to Livsmedelsverket, meat production as a whole accounts for almost 15% of the world's total emission of greenhouse gases.
Eating a plant-based diet is good not just for the environment, but it may be one of the best investments you can make for your health and wellbeing. At the same time, it eliminates much of the cruelty towards many animals trapped in today's commercial food production. Use your fork, and take true responsibility — for the environment, your health, the animals, and society around you.
In addition, don't forget that if your health is poor, you don't have the same quality time with family, you are not as productive and creative at work, you don't achieve the same educational excellence, and your need for healthcare is more expensive for society!
And the best part is, you won't be missing out on anything worthwhile! You can experience some of the most delicious tasting, colorful, varied and appealing food you have ever had, all with plant-based ingredients. I hope this issue of LifeStyleVIEW will inspire and motivate you to try something different and start a new lifestyle. Happy reading!

Claus Nybo
Editor