Finally the new issue of the magazine LifeStyleVIEW has arrived! To give you a taste of the content you can read the editorial written by Claus Nybo. Enjoy!
Proud to be a human!
The scope of the current refugee crisis has taken Europe totally by surprise, and how it is going to impact our society and way of life remain to be seen. But aside from the many fears and speculations, there is at least one thing I think is proving to be a real blessing – the opportunity to show compassion and love.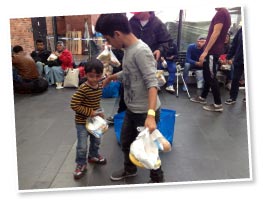 In September, when I landed at Copenhagen airport, I was surprised with what I found on the platform — long rows of tables with food, drinks and clothing, and many volunteers welcoming and helping refugees on the move. As the train pulled in to the station, the volunteers ran up and handed food packages to the unbelievable number of refugees inside the train. The big smile of thankfulness breaking across a father´s face as he received two food packs and handed them to his children, couldn't be missed. I watched, intrigued, as his little girl receiving a stuffed animal and spontaneously started to play with the stranger sitting next to her, a Swedish lady returning from vacation.
The scene brought tears to my eyes and I thought to myself, "Today I am proud to be a human".
I few days later at the Malmö central station, I saw a lady and her two teenage sons come in with two big IKEA bags full of sandwich-packages and start to share them with waiting refugees. In less than two minutes they were all gone. "We couldn't just sit at home and watch", she told me, "so we decided to make a few hundred sandwiches and bring them here". During the past few months, this is no longer just an isolated example of compassion.
I believe that as challenging as this crisis is for Europe to cope with, it is also good for us. In a well functioning social system where the government takes care of all our needs, we are often so busy with our own lives and wants that we fail to notice the needs of people around us. Yet this crisis is bigger than the system can cope with. But is that inability allowing us – regular people – to not only be touched by empathy, but to actually show compassion? And if so, how can we keep this new spirt of love and care alive, even after the crisis, and not just towards the refugees?

Claus Nybo
Executive editor