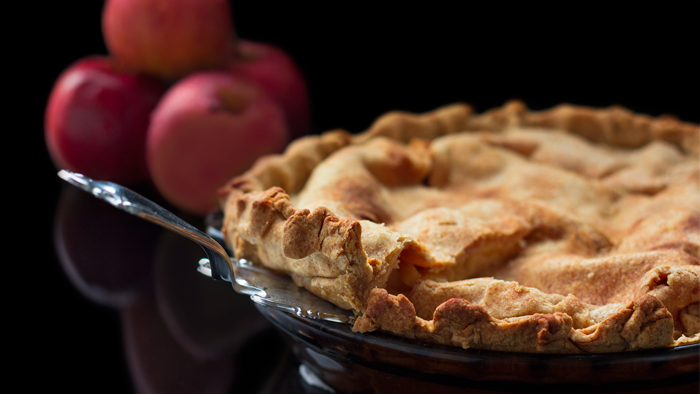 Eplepai
Blir 8-10 porsjoner
Ingredienser
8-10 middels store epler (nok til 6 kopper med eplebiter)
½ dl sukker (litt mer om eplene er sure)
¼ ts kanel
1 ½ ss maisstivelse
1 ss sitronjuice
2 paibunner
Fremgangsmåte
Skrell og skjær eplene i skiver (jeg skjærer eplene i fire, og deretter i skiver på ca. ½ cm). Legg eplebitene i en bolle med sukker, kanel, maisstivelse og sitronjuice, og rør inntil eplene er godt blandet med de andre ingrediensene. Lag en paibunn og fyll den med epleblandingen.  Det bør være mye fyll på midten, siden eplene synker ned ved steking. Kjevl ut den andre deigen, og skjær ut biter; finn en kreativ måte å legge dem på toppen av eplene. Stek paien på 220 ºC i 10 minutter. Senk temperaturen til 180 ºC. La den steke i 30-45 min inntil bunnen er gyllen og eplene er myke når du prikker dem med en gaffel.
Paibunn
Ingredienser
3 dl hvetemel
3 dl fullkornshvetemel eller grahamsmel
1 ts salt
1,5 dl kokende vann
1,5 dl lys olivenolje
Fremgangsmåte
Bland melet og saltet. Tilsett alt vannet og oljen på en gang. Rør med en gaffel. Del deigen i to deler. Kjevl hver av ballene ut mellom to bakepapir. Følg så fremgangsmåten som er beskrevet ovenfor. Om du har en oppskrift som spør etter en forhåndsstekt paibunn, kan du gjøre følgende:  Legg deigen i en paiform, fiks kantene og prikk bunnen med en gaffel. Stek på 220 ºC i ca. 15 minutter. Se til så den ikke blir brent.